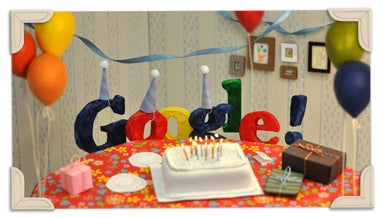 For all of you who went to Google's homepage today you might have noticed that today's doodle theme was Google's own birthday, the company is officially 13 years old.
According to pcworld.com,  in past years Google has celebrated its birthday on September 27th, Google.com was registered on September 15, 1997 and incorporated on September 4th, 1998, so you could say Google is actually 14 years old and not 13 as stated.
Anyways,  more than 12 years have passed since this game changer, revolutionary, and innovative search engine originated cyber monster came to be.
So, Happy birthday Google!